Never To Forget
Remembering the Health Workers Who Gave Their Lives to Protect Us
Howard Goodall explains the genesis of his NHS memorial choral work, and the effect of meeting relatives of those who died during the pandemic
The Beatles' Sergeant Pepper's Lonely Hearts Club Band, released in June 1967, had two songs on it inspired in part by stories reported in newspapers: She's Leaving Home (The Daily Mirror's report about teenager Melanie Coe's absconding from her parents' home) and A Day in the Life (The Daily Mail's description of the death in a road accident of Guinness heiress Tina Browne).
These weren't the first pieces of music prompted by newspaper stories nor were they the most recent. Elvis Presley's 1956 recording of Tommy Durden and Mae Boren Axton's Heartbreak Hotel was inspired by stories in either The Miami Herald or El Paso Times, depending on which of two potential sources one finds most convincing.
The 285 names that now form Never to Forget's text were those made publicly available by May 2021 in consultation with the NHS Confederation, NHS England People Directorate, the BMA and the Royal College of Nursing.
More recently, the 1975's Love it if We Made it (2018) references multiple tabloid headlines. Verdi's 1859 opera Un Ballo in Maschera (A Masked Ball), though itself a re-working of the plots of two earlier operas, one by him and one by Daniel Auber, was nevertheless inspired by an event that Verdi, Auber and librettists Antonio Somma and Eugène Scribe could only have known about from newspaper reports – namely the assassination in March 1792 of the Swedish king Gustav III at a masked ball. The subject matter of the opera was deemed too politically sensitive, even nearly 70 years after the historical event, that for its première in Italy its characters had to be re-named and its location re-set to North America, along with many other changes demanded of the censors.
Now joining the ranks of these examples is Byline Times itself.
---
Remembering
In an article I wrote for the newspaper in April 2020, 'Hymns to the Silence', I reflected upon music's role in times of great tribulation and challenge, drawing on my personal experience of being a composer during the Covid-19 pandemic and looking at how musicians had responded to previous plagues, wars and catastrophes.
In those early days of lockdown, I predicted that, as before, music would offer perhaps a healing balm to those confronted with terrible loss, and also a way of memorialising those we would lose along the way so that we would not forget the sacrifice, suffering and service of those whose lives would be cut short by their exposure to the virus.
The article was read by Simon Halsey, conductor of the London Symphony Chorus (LSC), and the chorus' council members, who wrote to me asking if they might commission a new choral work that could in some way answer this collective need to remember and to honour.
I suggested – without yet 'hearing' the piece in my head – that I would like to try to create a work in which the text would only be the names of doctors, nurses, care workers and NHS support staff who had died in the pandemic. I described it at the time as a living, evolving musical equivalent of the Menin Gate or the Thiepval Memorial on the Somme, a roll-call of the names of those who died treating, protecting, healing, comforting, caring for the hundreds of thousands of patients (it turned out) who were to be hospitalised by Covid-19.
Little did we know then just how horrifying those numbers would be, nor that the UK would eventually see more health workers die pro-rata during the pandemic (so far) than any other country on earth. The list of those health and care workers names is now shockingly, tragically long. ONS statistics gave the total number of personnel in the wider health and social care sector whose death was attributed to covid-19 in England and Wales, between March and July of 2020 as 625. By January of this year, that figure had risen to 883.
At any rate, my suggestion was readily taken up by the LSC and between April and June 2020, I composed a first version of the piece which had, at that time, 122 names of health and care workers whose lives had been lost as its text.
The LSC, which has around 100 singers at full strength, then distributed this first 8-minute version of it, called Never to Forget, to every member to learn at home –with considerable guidance offered to them on the pronunciation of the extremely ethnically diverse names as well as the not-always-familiar contours of rhythm, emphasis and melody that I wove from those names.
An online, 'virtual' choir version was recorded and painstakingly edited together and uploaded at the beginning of July last year.
---
What's in a Name?
We always knew, however, that this would not be the final version of the piece, since the awful toll of the pandemic on health workers continued through last year and into this, with each successive wave. We set for ourselves the possible target of a live performance, in an actual public venue, with orchestra and an audience physically present, of a longer list of names on our memorial wall of sound.
So, even while the online version was being seen, I had begun re-opening the architecture of the piece to accommodate a more substantial scaffold for the new names, which I began adding and re-shaping through the autumn and winter.
Names have a rhythm, a rise and fall of accent and resonance. The name 'Becky Regan', for example, has two short notes, 'Be-cky', with an emphasis on the first, followed by two further syllables, 'Re-gan' which when spoken are slightly slower than the two for 'Becky'. Knowing whether Ms Regan, a healthcare assistant at North Tyneside Hospital, pronounced her name to sound like Ray-gan, or Ree-gan, is also important. However, the rhythm of her name is relatively straightforward and suggests a short stem of a tune. These short stems linked together to form longer arcs of melody.
What struck me most, talking to family members afterwards, is that they see so clearly, and feel so dreadfully, that the sacrifice they mourn was an act above all of love and compassion, offered uncomplainingly, without hesitation, to strangers
However, the name 'Anujkumar Kuttikkottu Pavithran' suggests a rhythm of far greater complexity that attracts a rise and fall of a quite different shape of melody. This process was multiplied hundreds of times and my job as composer was to unite these rhythms and sounds into a musical whole that might make sense to a listener. Thankfully, Gill O'Neill of the LSC led a team to research and verify the correct pronunciations of the names, one by one, so that my published score can now carry phonetic-style guides as well as the names for future performances.
During the second phase of my composition it became clear that, as we had for the first version, we would have to draw a line at a certain number of released names in order for the piece to be structurally finished in time for rehearsals. The 285 names that now form Never to Forget's text were those made publicly available by May 2021 in consultation with the NHS Confederation, NHS England People Directorate, the BMA and the Royal College of Nursing.
At the start of 2021, we all imagined that a concert date set for July 2021 seemed so distant and 'safe' that a real-life performance was a realistic prospect. We could not have known how close to not happening this keenly-awaited and immaculately prepared-for live première was eventually to be.
In the event, it was we believe only the second live performance of a choir to a paying public, in an indoor venue in the UK, for 16 months, when it took place last week, on 1 July, at Christ Church Spitalfields, as the opening of the annual Spitalfields Music Festival.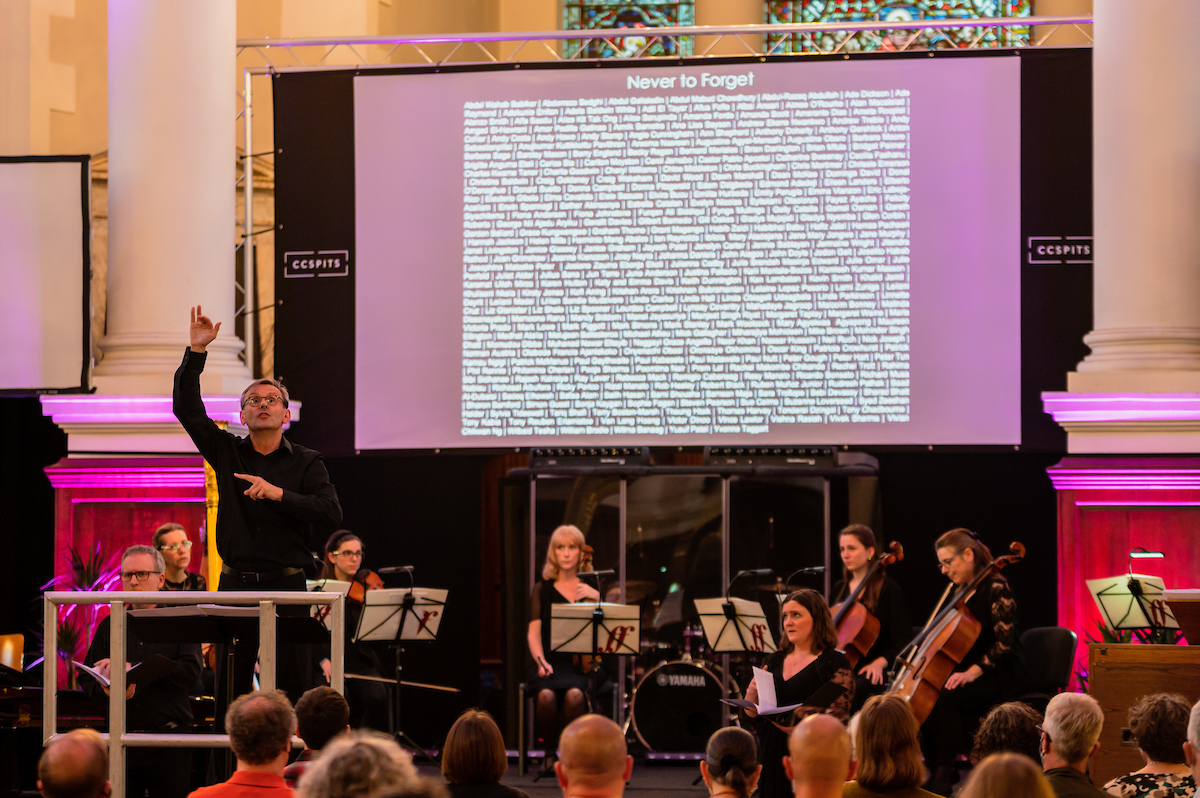 As it was, the chorus' 70 singers at the concert were masked (Verdi would have sympathised with the challenges they present to audibility and clear diction), standing one metre apart from each other, spreading the entire length of that broad and open church gallery. The sell-out audience was distanced in family groupings and rigorous COVID-19 precautions and protocols were in place for rehearsals and performance alike.
Rehearsals almost all took place in small groups, outdoors. The accompanying small orchestra was sitting the entire length of the church away from some of the tenors and basses, the kind of distance that keeps conductors awake at night. Like the other two million people who sing in choirs in the UK, our singers, nervously expecting the concert to be cancelled at the last minute, had to endure watching football and snooker crowds singing uproariously in enclosed spaces, endorsed in so doing by the government, in the days and weeks leading up to the première, whilst they – according to inconsistent rules – were not allowed to meet and sing as a group together. The performance did though, against the odds, go ahead.
In fact, it was two première performances.
---
Relatives of the Fallen
Before the 8 pm public première, there was a tea-time performance especially for the families of the people whose names are listed in Never to Forget. This was one of the most humbling and moving musical occasions I have ever experienced.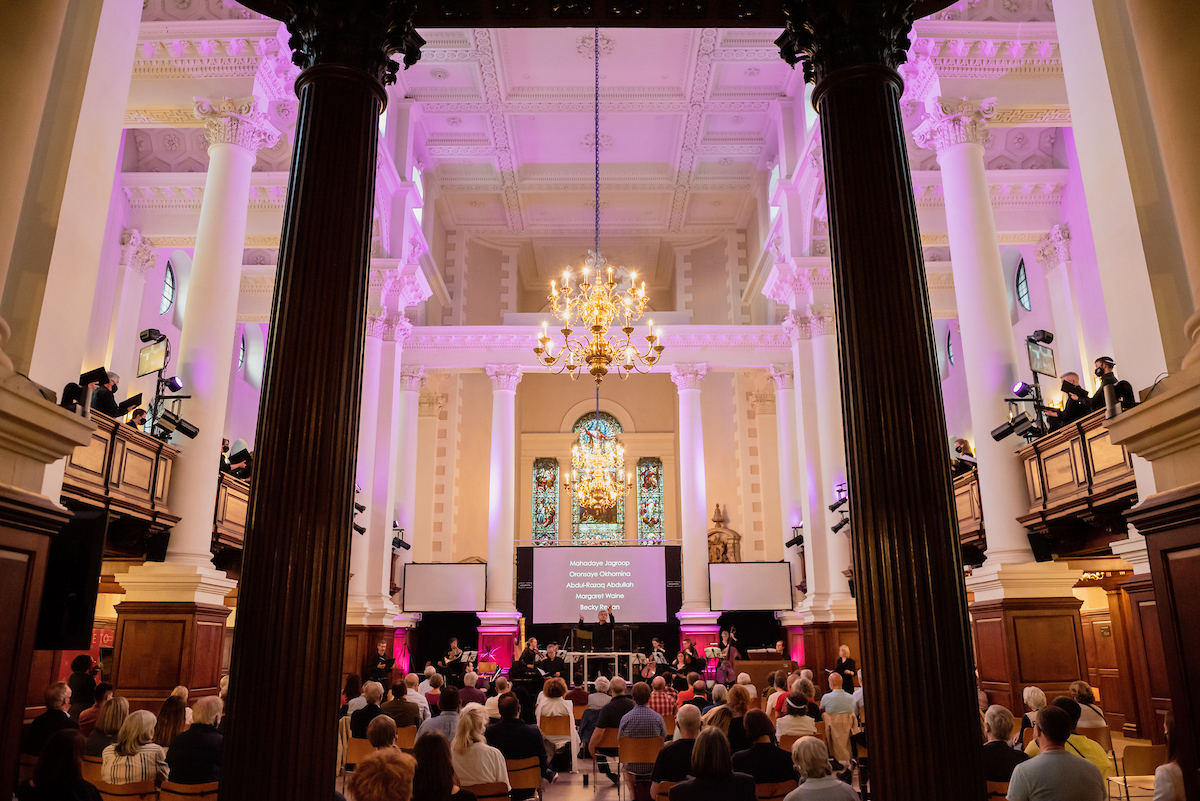 What remarkable people the grieving family members were, displaying such fortitude, generosity, pride and grace despite their evident and wholly understandable emotional distress. Perhaps having an opportunity to meet each other, to have others stand alongside them in a shared, collective moment of remembrance (the names were displayed on a screen as they were sung) may have been of some modest solace, I cannot know, and grief is such a private agony.
One mother, or perhaps wife, in a beautiful bright cream sari, stood to video her son, or husband's name, as it was shown and sung, standing next to two teenage daughters of a lost father, in their hijabs, against the backdrop of Hawksmoor's 18th-century columns.
One wife and two daughters introduced themselves after the concert and sang back to me the name of their dad and husband, as it had been sung a few minutes before by the chorus. Their acknowledgement and approval of our tiny gesture meant the world to me. One family wore personalised T-shirts for the concert, dedicated to their doctor dad. His sons were doctors too.
Anyone who has seen the list of names of the health and social care workers who have died in the pandemic will know that this is a death toll that has disproportionately fallen on people who were immigrants, or the children or grandchildren of immigrants: our debt to them is incalculable.
What struck me most, talking to family members afterwards, is that they see so clearly, and feel so dreadfully, that the sacrifice they mourn was an act above all of love and compassion, offered uncomplainingly, without hesitation, to strangers. What do we have, the rest of us, that we can give in return, to express a gratitude this deep?
It's for others to decide whether the piece I composed does what it set out to do but as we publish the sheet music hopefully other choirs will take this list of names to their hearts, as we have, and spread it, concert by concert, to the communities all over the UK that were served so unselfishly by health and care workers, for so long, in such exposed and unforgiving conditions. A hostile environment indeed.
That care and dedication continues today, as the case numbers rise again and we hurtle towards what in effect is a huge experiment with herd immunity and the relaxation of mitigating restrictions. I wonder how many people involved in front-line, face-to-face health care will greet 19 July as 'freedom' day?
The day after the Spitalfields concerts, the Rambert Dance Company began filming their intensely moving interpretation of Never to Forget, choreographed by Benoit Swan Pouffer, for public release very soon. It seems to me both defiant and hauntingly apt that alongside the sound of a hundred voices and an orchestra, a dance piece – the body as moving, living, vibrant art – should also be created, in response to a confrontation between us and a virus that sought to debilitate, disfigure and silence the human body.