'Digging a Grave'
Russian Ministry of Defence Threatens Journalist who Exposed Italian COVID-19 Intelligence Operation
3 April 2020
Officials target Jacopo Iacoboni of La Stampa over his revelations about Russian assistance to Italy, reports Stephen Komarnyckyj.
In a Facebook post on 2 April, Major General Igor Konashenkov, the Russian Ministry of Defence's official representative, harshly criticised the Italian newspaper La Stampa. Konashenkov was responding to an article written by Jacopo Iacoboni and published on 24 March.
Iacoboni had reported that 80% of the aid that Russia's Ministry of Defence had sent to Italy to fight the COVID-19 pandemic was "useless". He had also collaborated with Natalia Antelava of the investigative journalism site Coda Story. They published an article on 2 April, arguing that Russia's assistance was really an intelligence and propaganda operation.
Russia dispatched its 'support' to Italy in late March after discussions between the Russian President Vladimir Putin and the Italian Prime Minister Giuseppe Conte. The aid package was highly unusual and consisted of 15 enormous military planes with 122 officers from a secretive military unit. Coda Story's investigation showed that this support was probably unnecessary. The Russians had brought decontamination equipment and disinfected facilities in Bergamo, which has been particularly hard hit by the pandemic. However, Italy already had the NBC (Nuclear, Biological, Chemical) military units to carry out this kind of disinfection operation.
Indeed, according to Andrea Armaro, Italy's former defence spokesman, who was quoted in the Coda Story article, Italy "has perhaps the best NBC troops in NATO". He also pointed out that, if NBC forces were needed, they could have been dispatched to Bergamo much earlier.
The aid package was, Coda Story suggested, really a Trojan Horse. The article quoted Hamish de Bretton-Gordon, a former commander of the UK's NBC forces, who noted that the troops Russia dispatched to Italy probably included Russian military intelligence operatives. He suggested that Russian Military Intelligence (GRU) would both be gathering intelligence on Italy's military and setting up networks. 
The footage of Russian military vehicles rolling along the roads of a NATO country was shown gloatingly on some Russian media outlets. Similarly, the narrative that the EU was disintegrating in the face of the pandemic surged on social media.
The Kremlin had deftly exploited COVID-19 to undermine both NATO and the EU. Equally, its media outlets RT and Sputnik were producing dangerous misinformation, some of which was designed to encourage the spread of a pandemic that had in effect been weaponised. Sputnik Deutschland, for example, promoted a claim on its social media that washing hands did not help tackle the virus.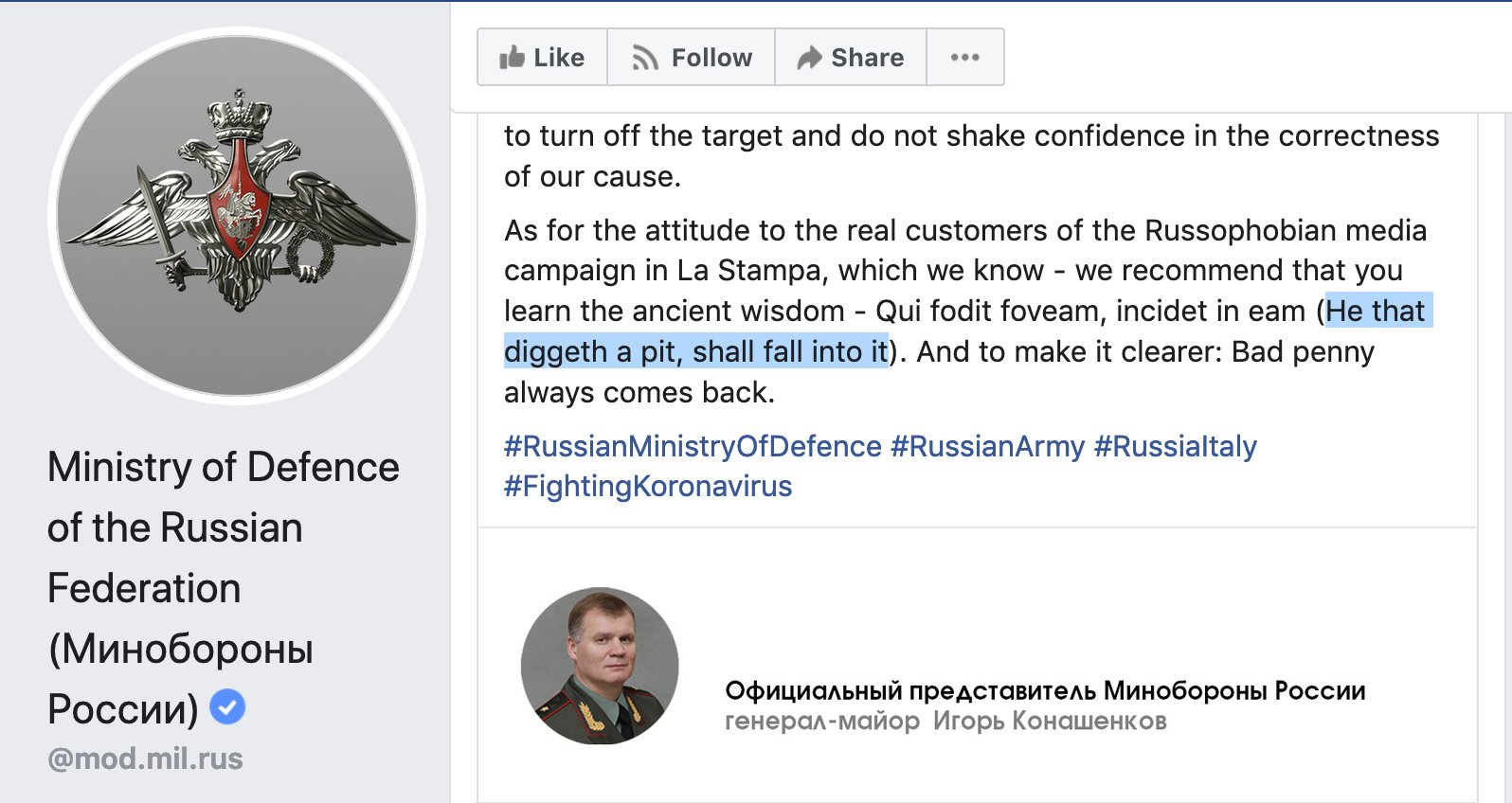 It is likely that Italy was targeted because Russia has for many years cultivated its politicians and media. Sergio Germani, the director of a Rome-based think tank who researches Russia's role in Italy and was quoted in the Coda Story, noted that Russia had invested in 'soft power' in the country in recent years. He observed that Kremlin resources had supported "think tanks and news outlets" shaping a more pro-Russian climate of opinion in a country that had historically adopted a softer approach towards Moscow.
Russia has seen Italy as an easy target and was angered by criticism from a supposedly friendly media establishment. The substance of La Stampa's report was not really addressed in Konashenkov's statement. Instead, he lashed out at the newspaper for supposedly hiding behind "freedom of speech and pluralism of opinions".
In his concluding lines, he quotes a Latin proverb which translates as 'who digs the grave crashes into it'. Iacoboni is not named in this post, but Konashenkov's words are a not so subtle threat to both him and La Stampa.
---
OUR JOURNALISM RELIES ON YOU
Byline Times is funded by its subscribers. Receive our monthly print edition and help to support fearless, independent journalism.