EXCLUSIVE
TV Comedian leads Polls in Ukraine Presidential Elections - but is Zelensky really offering a fresh start?
16 April 2019
Zelenksy markets himself as a newcomer to politics, but Steve Komarnyckyj considers evidence that familiar characters from Russia and Cambridge Analytica may be involved in the background.
On 8 April, Volodymyr Zelensky strolled up to a horizontal bar in a Kyiv park and did a few pull ups. The resulting clip encapsulates a Ukranian presidential campaign which has been slick and largely content free. Petro Poroshenko, Zelensky's election rival and the incumbent president, has been cast as a lumbering figure, not as quick or agile as the newcomer.
If their ratings remain constant, Zelensky, a comedian with no political experience, will be Ukraine's next president. This battle may seem remote from a west reeling under Brexit, Trump and the populist right. Yet this often seemingly absurd contest will largely determine the fate of Europe's forgotten war in Donbas and Russia's plans for subverting democracy.
Zelensky's strategy is to generate controversy while unbalancing his opponent. He challenged Poroshenko to take a drug test before a debate on 14 April at Kyiv's Olympiyskiy Stadium. Both men duly rolled up their sleeves on 5 April and were pronounced drug free.
The combination of possible Russian funding and Cambridge Analytica has ugly parallels with Brexit and Trump.
Alas, Ukraine's former heavyweight champion Volodymyr Klitschko then released a video pointing out that the results for both candidates were published too quickly and must have been faked. The date on the certificate Zelensky posted predated the test and were subsequently changed. He has refused to take a repeat test. He then insisted that the debate should be held on 19 April. Poroshenko stuck to the original date, promptly turned up alone, and was left staring at an empty rival podium.
The Oligarch in the Shadows
Despite his soaring ratings, there are serious issues with Zelensky's campaign. Journalists at Ukraine's Bihus channel have established that the Ukrainian oligarch Ihor Kolomoiskiy's lawyer, Andrey Bohdan, is a fixture in Zelensky's campaign headquarters. Bihus also established that Bohdan has met with the head of NABU, Ukraine's anti-corruption bureau to discuss Zelensky's policy on corruption and is also regularly meeting Kolomoiskiy.
Skhema, another Ukrainian TV programme, which focuses on corruption, alleges that Zelensky met Kolomoiskiy in Geneva and Tel Aviv on a number of occasions since 2017, and was accompanied by Bohdan on two of these visits. The programme has also established that Bohdan has visited Moscow four times since 2014. This evidence is only circumstantial but suggests possible coordination between Kolomoiskiy and Russia. Meanwhile, Zelensky's election team have denied Bohdan plays any role in the campaign, saying the men are just old friends.
If this Ukrainian oligarch has developed Zelensky as a political project he may well have been motivated by revenge.
After the revolution of 2013-2014 Kolomoiskiy posed as a Ukrainian patriot. However, his relationship with Poroshenko deteriorated after Privatbank, the country's largest bank, where he was a major shareholder, was nationalised in 2016.
While it cannot be proved that Zelensky's campaign is linked to Russia his campaign is eerily reminiscent of a known Russian subversion operation
According to Kroll, the American firm which subsequently undertook a forensic audit of the bank, it had been looted to the tune of $5.5bn. Of the corporate loans that were made to businesses, 95% were associated with the bank's owners. Kolomoiskiy is nevertheless demanding $2bn compensation from Ukraine. He has also spoken recently about Russia's invasion of the Donbas in a way that would warm the cockles of Putin's heart.
While it cannot be proved that Zelensky's campaign is linked to Russia his campaign is eerily reminiscent of a known Russian subversion operation. A cache of hacked LDPR (Liberal Democratic Party of Russia) emails from 2014 spoke of a project to run a comedy candidate in the Ukrainian elections.
The hack, unearthed by Bellingcat researcher Christo Grozev, seemingly indicates that "Darth Vader", who ran to be the mayor of Odessa in 2015, was a pilot project. Grozev is careful to emphasise that this does not prove a link between Zelensky and Russia. However, the Ukrainian site Myrotvorets, has provided emails from a hacked account linked to Russia's proxies in the Donbas indicating that his campaign may have received a donation from the FSB. Grozev has verified the hack but again stresses that the messages may not have been sent by the individuals concerned. Yuri Zoria, a Ukrainian journalist who has examined the messages, also concedes that there is no proof they were sent by the supposed plotters.

A further possible toxic connection is an alleged link to the discredited Cambridge Analytica firm. The Ukrainian journalist Mikhail Golub was sent a copy of a supposed proposal to Zelensky's campaign by Cambridge Analytica offshoot, Acrion Global. Acrion Global was registered as a UK company in 2018 and is the creation of two Cambridge Analytica personnel, Livia Krisandova and Peregrine Worsthorne-Browne, along with a Slovak national Martin Lengyel.
Lengyel is a media entrepreneur and political consultant who was in Ukraine in 2004 to 2005 during the Orange Revolution and worked as an adviser to Viktor Yushchenko. He and Ukrainian political consultant Oleh Kylymnyk are partners in a Slovakian firm.
Kylymnyk has previously worked for Boris Lozhkin, Poroshenko's ex chief of staff who was fired in in 2016 after a money laundering scandal implicating both him and Poroshenko.
Lengyel's involvement and the date of Acrion Global's creation suggest that it was launched specifically to target the Ukrainian elections. The link to Lozhkin, an associate of Kolomoiskiy's may or may not be coincidental. While it is unclear whether the campaign accepted the proposal, the combination of possible Russian funding and Cambridge Analytica has ugly parallels with Brexit and Trump.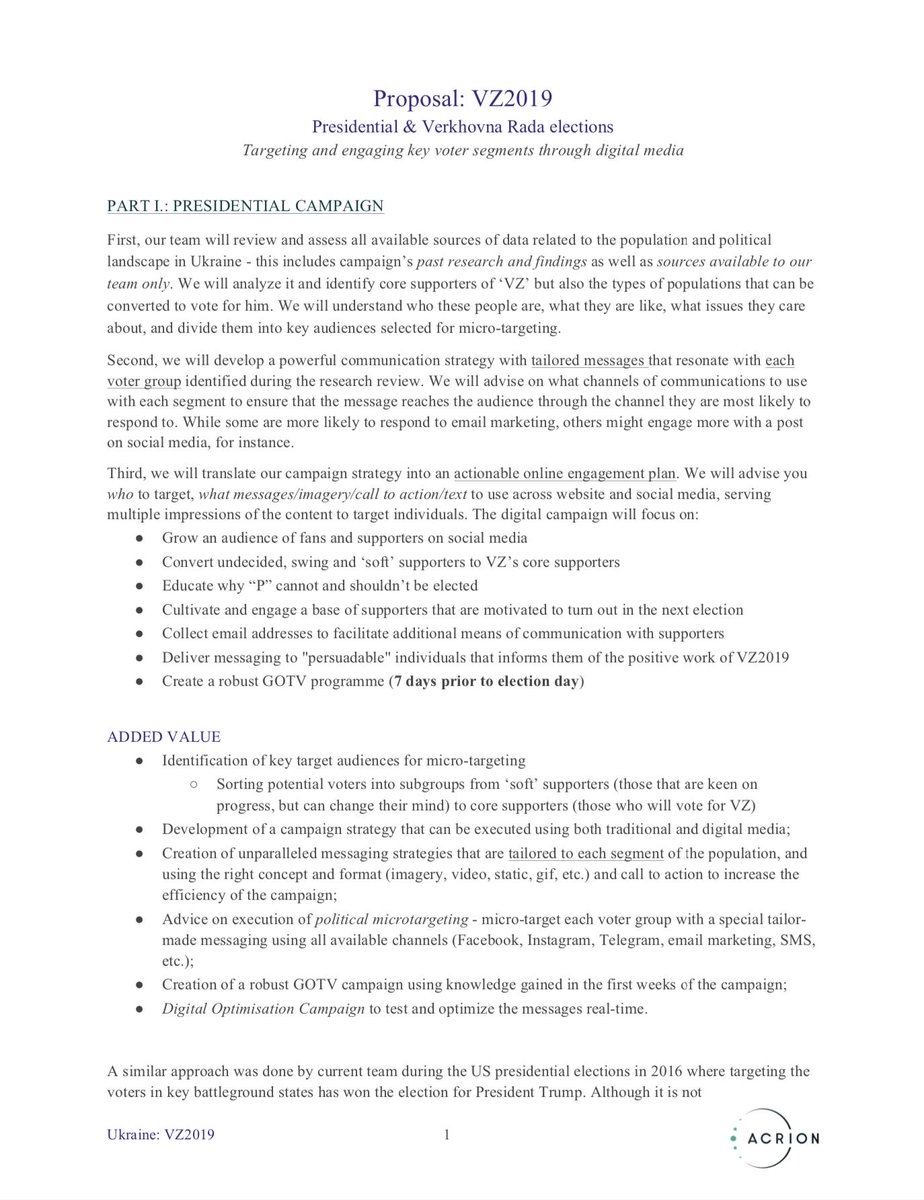 Byline Times has contacted Acrion Global for comment on this pitch but as yet has had no reply.
Voting For Unicorns
Zelensky's most serious problem is his lack of experience. When he makes policy announcements, their flaws are quickly exposed. His plan to speak to Russia about the occupation of Donbas was axed when Moscow responded, absurdly, that it was not a party to the conflict. Although, to his credit, he does have backing from Ukrainska Pravda, the campaigning website whose journalists were instrumental in exposing the darker side of Manafort's activities in Ukraine. But his greatest strength is the widespread dislike of Poroshenko. 41% of Zelensky's supporters are voting for him out of distaste for the incumbent. If the ratings of the two candidates remain stable he will romp to victory on 21 April.
Poroshenko's popularity has plummeted due both to his implementation of unpopular economic reforms and his determination to preserve the oligarchy while supposedly decoupling it from politics. He has considerable achievements to his credit, having led the country while it has faced continuous aggression from a nuclear superpower and presided over the establishment of an anti-corruption court. During the past five years he also overseen over a reorientation of the country towards NATO and the EU, and regained territory occupied by Russia.
Yet Poroshenko's failure to tackle corruption, some of which is linked to his associates, has cost him dear. He is seen by many as part of that failed oligarchic political class which has looted Ukraine. His main obstacle may be the use of targeted social media advertising by his opponent's campaign and the bombardment of negative imaging in Ukraine's media.
The tragedy is that Zelensky, who some Ukrainians see as a break with this corrupt elite, is linked not only to Kolomoiskiy but to many other shady figures from Ukraine's past such as Lozhkin. He may be able to transcend these links and, if he has a strong team, prove his critics wrong. But it is easy to understand why some see him as a project jointly established by Kolomoiskiy and Russia. However, it is unlikely, given Ukraine's parliamentary and presidential system and its strong civic society, that he would be able to hand the country over to Russia.
If Ukraine survives and prospers despite his links then we will have seen the limitations of Russia's subversion of electoral processes and the Putin regime: the central aim of all Putin's efforts has always been the subjugation of Ukraine and, unless he succeeds, his regime will ultimately fail, for it has nothing else to offer.
Nevertheless Ukrainian voters may regret voting for Zelensky's vague prospectus. One of his viral campaign memes shows a cartoon unicorn prancing merrily against a green backdrop. Voters, in Ukraine, like voters in the US and UK, may be about to find out that the promised mythical beast is always an old nag with an ice cream cone glued to its head.