The former UKIP leader has promised to wipe out the Conservatives if they don't deliver Brexit, but what else do we know about his new political venture?
---
Since Gerard Batten turned UKIP into the 'Tommy Robinson' fan club, long-term MEPs have been doing what Kippers do best — leaving.
The party won 24 seats in the European Parliament in 2014, but that has now shrunk to just seven, with the deserters staying on as Independents.
With time running out for the Brexit deadline, there is a growing chance that the UK won't be leaving the EU any time soon. And, if that happens, the UK will have to return representatives to the European Parliament once more in May.
That presents an opportunity for Farage & Co. In their eyes, re-election as Members of the European Parliament would be seen as validation for Brexit in the wider country. Better still, they'd get to keep those lavish salaries and expense accounts.
But to return as MEPs, they first need a platform.
Step forward the Brexit Party, which last Friday became the 53rd political movement to be registered with the Electoral Commission since February 2018.
Writing in the Telegraph, Farage promised that he and his followers stood "ready to defend democracy". All of which must have come as something of a shock to the leader Catherine Blaiklock who celebrated the launch by giving a car-crash interview.
Describing herself as having a background in "international markets", Blaiklock's current business empire seems to consist of a poorly reviewed bed and breakfast near Lingwood.
A former UKIP parliamentary candidate who stood in the 2017 General Election on a promise of "putting the Great back in Yarmouth", Blaiklock spent that campaign touring her prospective constituency in a purple cab making a series of gaffs.
Having begun by telling the Yarmouth Mercury that she had a "very bleak view" of Britain and would "emigrate" if she was younger, she upped her game by producing a large framed photograph of herself posing with her black partner at a hustings. Here was conclusive evidence that she was not a racist and reason enough for the people of Yarmouth to vote for her.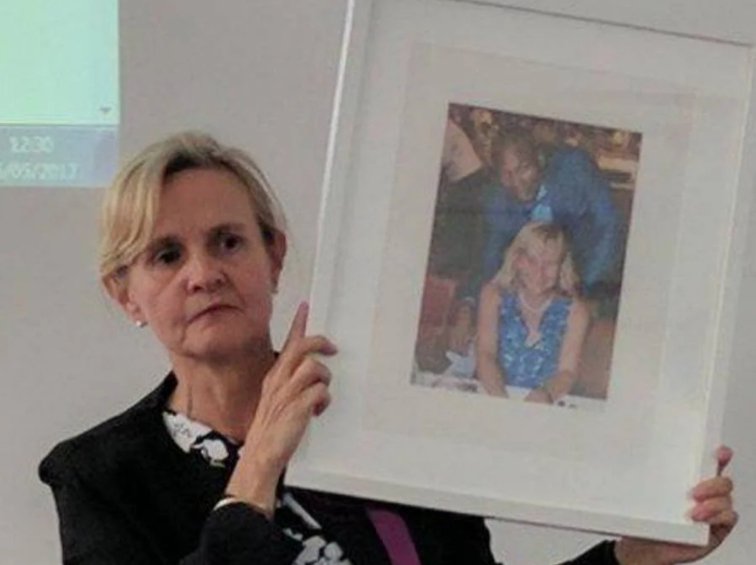 They didn't. Blaiklock trailed a poor third securing 14,000 fewer votes than her nearest rival.
The set-back didn't blunt her ambitions though and she is now the leader of a political party, albeit a stripped down one. For the Brexit Party currently has but two policies: to "leave the EU" and "take control of immigration". There is no strategy on health, education or any one of the multitude of issues that have been eclipsed by the ongoing Brexit madness.
In place of creating eye-catching policy announcements, Blaiklock has busied herself this last week deleting her Twitter feed and some personal blog posts. In one of those, she allegedly argued that "biological reasons" could be behind gang-crime in the Afro-Caribbean community – and that despite her framed photo. In another long – and, as yet, undeleted – post on Conservative Woman Blaiklock argued that poor people should eat a diet of potatoes: "A farm shop near me sells 20kg sacks of potatoes for £7… enough protein, nutrients, vitamins and trace minerals to live on healthily."
In distancing himself from the EDL-infused UKIP, Farage has signed up to a party run by a woman whose views on race, immigration and poverty are every bit as bad.
Perhaps he sees her as expendable.
Tweeting today, an animated Farage told his followers that "an astonishing 35,000 people have registered as supporters of the Brexit Party in the first 48 hours". Given that anyone can join simply by writing in a name and an email address on a low tech form, I would encourage him to have a good look at those signatories.
As things stand, I am currently a prospective candidate.