Russian Influence Part I
What Johnson Doesn't Want You to Know
With the British Prime Minister personally intervening to suppress a parliamentary report into Vladimir Putin's 'active measures' in UK politics, Peter Jukes reveals what Boris Johnson wants to hide.
---
According to its chairman, Dominic Grieve, Boris Johnson personally blocked – for "bogus" reasons – the imminent publication of a cross-party report on Russia meddling in UK politics by Parliament's Intelligence and Security Committee (ISC).
Elements of the suppressed report have now leaked out. According to CNN, the evidence of Bill Browder, the campaigner behind the anti-corruption Magnitsky Acts, suggests that Russia's President, Vladimir Putin, has deployed Russians "to infiltrate UK society and to conceal the underlying Russian controllers and their agendas".
In the meantime, openDemocracy has revealed that the Conservative Party, which has received more than £3.5 million from Russian funders since 2010, has actually stepped up its dependence on Russian donors to at least £489,850 in the last year, compared to £350,000 in the year previously.
Direct party funding is only the tip of the iceberg. The connections between Putin's anti-EU agenda and Brexit politicians go much deeper.
As Adam Schiff, chair of the House Intelligence Committee in the US, has said: "From what we've seen, the parallels between the Russian intervention in Brexit and the Russian intervention in the Trump campaign appear to be extraordinary."
Here is a summary of findings of Russian influence in Britain so far – which Boris Johnson doesn't want you to see…
---
The Report that HAS been Published – Online Operations
While the ISC report has been suppressed during Britain's General Election campaign, another report was published in February this year by another official UK parliamentary committee – the Digital, Culture, Media and Sport (DCMS) Committee, chaired by Conservative politician Damian Collins, into disinformation and fake news. This report found that Russia had directly tried to intervene in the 2016 EU Referendum.
The committee estimated that the state-controlled channels RT and Sputnik's pro-Leave websites garnered 134 million potential impressions – nearly five times the reach of the two domestic campaigns combined (Vote Leave had 33 million impressions and Leave.EU had 11 million). Had Russia paid for a social media campaign of this scale, the committee estimated, it would have cost between £1.4 and £4.14 million.
Moreover, the report revealed how the Internet Research Agency, a Kremlin-backed St Petersburg-based troll farm indicted for election interference in the US, was simultaneously intervening in British politics, with a marked emphasis on stirring up Islamophobia and racial hatred. It "tried to fuel social divisions, including religious tensions, in the aftermath of the Westminster, Manchester, London Bridge and Finsbury Park terror attacks," it stated.
The Kremlin's attempts to intervene continue. Last October, Twitter closed down 3,613 new Internet Research Agency accounts. A brief analysis of the data revealed that these accounts tweeted about Brexit 1,525 times.
The DCMS Committee also found evidence that Russia had access to a Cambridge Analytica database – which been compiled through the hacking of 50 to 170 million Facebook users – and deployed this during both the EU Referendum and the 2016 Presidential Election campaign to target UK and US voters. This breach was referred to the National Crime Agency by the Information Commissioner, Elisabeth Denham.
---
Targeting UKIP and Nigel Farage
Nigel Farage's former party UKIP has been a strong supporter of Russia for over a decade.
Former MEP and party secretary, Gerard Batten, has been close to former KGB figures since the 1980s and identified Alexander Litvinenko as a disaffected FSB officer six months before he was murdered by polonium poisoning by Putin's security services. He co-authored an anti-EU book with an aide, Pavel Stroilov, who had allegedly fled Russia with "smuggled secret Soviet documents".
Farage's support for Putin was vocal until recently and he has twice described the Russian President as the most impressive world leader. His MEPs have consistently voted down sanctions packages for Russia over its invasion of eastern Ukraine.
Farage supports other European right-wing politicians such as Marine Le Pen and Matteo Salvini who have received Russian funding. His appearances at the European Parliament are regularly covered by RT and he was asked onto the channel no less than 17 times between 2010 and 2014. His Leave.EU campaign also regularly recycled Russian racist propaganda.
Though he at first denied it, Farage met the Russian Ambassador Alexander Yakovenko in May 2013. After that meeting, Farage made almost monthly appearances on RT. Two years later, at the UKIP Conference in October 2015, a senior embassy official, Alexander Udod, approached Farage's new funder, Arron Banks, and invited him to meet the Russian Ambassador too.
What followed was at least four meetings with Banks and the ambassador, which opened the door to at least three potentially lucrative investment opportunities in Russian-owned gold and state diamond mines. Though the gold consolidation deal was pursued for several months, Banks says he never took up any of these offers. However, an investment company run by a close colleague did take part in the privatisation of Alrosa diamond mines.
The Russian diplomat Udod is reported to be have been the handler of Russian spies in the UK. Udod was invited to a drinks party hosted by Banks on the night of the shock EU Referendum result in June 2016.
In 2018, Udod was expelled from the UK as a suspected spy after the abortive assassination attempt on Sergei Skripal using the novichok nerve agent in Salisbury.
---
Targeting the Conservatives and Boris Johnson
It is clear in retrospect that the Russian attempt to intervene in British politics was a two-pronged affair.
While Yakovenko and Udod made overtures to UKIP and Nigel Farage, another expelled Russian diplomat, Sergei Nalobin, first secretary in the Russian Embassy's political section, was reaching out to rebuild ties with the Conservative Party.
According to the Observer, he was keen to get involved in fundraising for the Conservative Party and wanted to know of the rivalry between David Cameron and Boris Johnson.
Nalobin, who now lives in a Moscow apartment block known as the "FSB block", is the son of Nikolai Nalobin, a former KGB general. From 2011 onward, Nalobin met various British 'social media influencers' at a regular 'Digital Barbecue'. The first event was co-hosted with blogger Paul Staines. Staines and his business partner, Jag Singh, who was active in Moscow during the 2011 election campaign, later worked for the Russian Embassy on political campaigning. Subsequent attendees include alt-right commentator Milos Yiannopolous and the then MP Douglas Carswell.
But Nalobin's most controversial role was helping to establish the Conservative Friends of Russia. This group was launched in the Russian Embassy's gardens in August 2012 by Yakovenko and Nalobin, and attended by senior Conservatives such as the then chair of the DCMS Committee, and soon-to-be Culture Minister, John Whittingdale, who was the group's honorary vice president. Whittingdale was accompanied by an office aide, Carrie Symonds, who was promoted to special advisor when he moved into the Cabinet in 2015. (Symonds now resides in Number 10 with Boris Johnson).
Though Conservative Friends of Russia was subsequently disbanded, Nalobin seems to have established some key Conservative contacts before he left the country under a shadow.
Matthew Elliott, destined to become the chief executive of the official Vote Leave campaign, was a founding member of Conservative Friends of Russia and visited the Moscow Duma as part of a delegation. Nalobin wished Elliott well on his engagement in 2014 and described Boris Johnson as "our good friend" in a now-deleted social media post.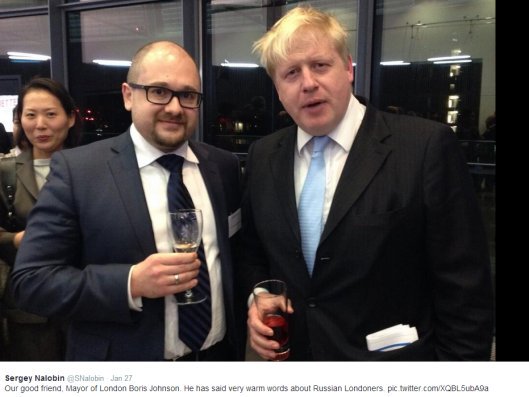 ---
Russian Influence on Vote Leave and Boris Johnson
While direct contacts between Conservatives and Russian officials appear to have chilled when Nalobin was effectively expelled in 2015, intermediaries still made approaches.
In late 2017, Byline revealed that the Maltese-born professor Joseph Mifsud, named as a Russian intermediary in the Mueller Investigation, was telling colleagues he was going to meet Boris Johnson "to discuss Brexit". He was subsequently photographed in the company of the then Foreign Secretary at a fundraising event in Reading.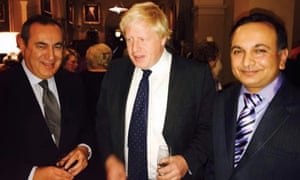 Meanwhile, Russian-born oligarchs remain close to the Prime Minister and his entourage.
Boris Johnson has maintained a close relationship with the proprietor of the Independent, Evgeny Lebedev – himself the son of a former KGB spy. As Otto English has confirmed on Byline Times, his visits to Lebedev's infamous Tuscan parties – on one occasion as Foreign Secretary without his security detail – have 'spooked the spooks'. A former security official told the Byline Times he could "absolutely confirm that members of the intelligence services are aware and concerned".
As reported on Byline Times last month, a Ukrainian born oligarch, Dmytro Firtash, currently awaiting extradition to the US, has extensive connections to both Putin, the Russian underworld and the British 'Brexit establishment', including John Whittingdale.
Another rich oligarch born in the Soviet Union, Alexander Temerko, has contributed more than £1 million to the Conservatives since he gained British citizenship in 2011 and also financed Johnson's leadership campaign. According to Reuters, Temerko describes himself as a "friend" who would "plot" late into the night over a bottle of wine when Johnson became Foreign Secretary. He admitted to being behind early plots to remove Theresa May.
The Russian connections to Vote Leave go beyond its chief executive Matthew Elliott. The campaign's director, Dominic Cummings, spent three years in Russia from 1994 to 1997. According to the Shadow Foreign Secretary Emily Thornberry last week, "an official-level whistleblower" has raised concerns about Cummings' time in Russia, and questions about his relationships with figures in Russian politics, intelligence, and security – as well as his relationship with Nalobin's Conservative friends of Russia. Cummings is now Boris Johnson's senior advisor.
With senior staff from Vote Leave – a campaign which benefited from the online operations of the Russian state during the Brexit referendum – now running the Conservative Party's General Election campaign, the financial contributions of its wealthy oligarchs, and with many senior figures apparently personally compromised by past associations, the question remains: what else is in the ISC report that is more damaging than what we already know?
This article was corrected to on 18 November 2019 when Jennifer Arcuri denied she attended the Russian Embassy Digital Barbecues.
---