This summer the US President asked the new UK Prime Minister to 'help' with allegations of Russian collusion. But what would Johnson know about it? Peter Jukes digs deeper.
---
Donald Trump, currently mired in new allegations of using Ukraine to interfere in the next US election over the summer, was at the same time reportedly asking the British Prime Minister to help discredit the report of Robert Mueller, the Special Counsel tasked to investigated Russian interference in the US.
A heavily redacted version of Mueller's report, delivered earlier this year, refused to exonerate Trump of wrongdoing.
According to The Times, Trump made the request for help in a call while congratulating Johnson on becoming the British Prime Minister on 26 July. Trump had been promoting Johnson as a replacement for Theresa May in the months leading up to the new Conservative leadership contest. For the previous two years, Johnson had also been receiving advice on speeches and strategy from Trump's former campaign manager, Steve Bannon.
But why would Trump ask Boris Johnson to help him on a report into Russian interference?
---
London at the Centre of Russian Spying
As Foreign Secretary from the summer of 2016, Boris Johnson should have been briefed on the pivotal role of London in the beginnings of the Russian campaign to subvert the US elections.
MI6 reported directly to Johnson, and a dossier written by the former chief of MI6's Russian desk, Christopher Steele, provided a road map for FBI Counterintelligence when the Mueller Inquiry into Vladimir Putin's support for Trump's presidential bid began.
But, before the Steele Dossier had been compiled, the FBI had already been warned by British intelligence of Russian interference. The activities of Trump's national security policy advisor, George Papadopolous, drew particular attention. In the spring of 2016, he had been in London boasting of his Russian contacts and information on Trump's rival Hillary Clinton.
It later emerged that Papadopolous had been approached by Professor Joseph Mifsud, a UK-based academic, who claimed to have substantial connections with Russian Government officials and introduced Papadopolous to the Russian Ambassador in London, Alexandr Yakovenko.
Papadopolous pleaded guilty in October 2017 to lying to FBI agents about his dealings with Russian intermediaries. In response to his guilty plea, the then Foreign Secretary was asked if he had seen any evidence that Russians played any role in British politics. "No, I haven't seen any, not a sausage," Boris Johnson said. "As far as I know they have played no role."
Just two weeks previously, Joseph Mifsud had been boasting of meeting Boris Johnson "to talk about Brexit", according to an exclusive report on Byline Times' sister site Byline in 2017. A spokesman for the Foreign and Commonwealth Office said then: "The Foreign Secretary has never knowingly met this person, planned to meet this person, or ever heard of him before."
Pictures of Russian intermediary Mifsud together with Johnson at the dinner in Reading were soon discovered on Facebook.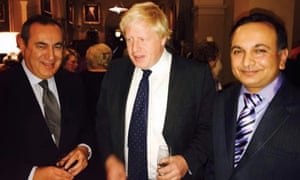 The BBC reported in July this year that Downing Street attempted to withhold sensitive intelligence from Boris Johnson when he became Foreign Secretary. "Once he was in government, on occasion Downing Street would even convene smaller meetings, or 'pre-meets', to discuss sensitive subjects rather than include him as Foreign Secretary," a senior figure told the BBC's political editor Laura Kuenssberg.
---
Spy Master Role
It's not only in his role overseeing MI6 that Johnson should have been all over Russian interference in the election. Day-to-day responsibility for GCHQ also belonged to Johnson during this time at the Foreign and Commonwealth Office.
The Government's signals agency was one of the first security agencies to become aware of suspicious "interactions" between Trump and Russian agents and Trump supporters have often claimed the whole Russian interference story was cooked up by British intelligence. When Trump accused GCHQ of spying on him on Barack Obama's orders, the intelligence agency was forced to issue a rare rebuke calling his comments "utterly ridiculous".
Despite this, Johnson remained close to the White House through Steve Bannon, Trump's campaign manager and chief of staff. By 2018, Bannon was claiming that Johnson "would be a great prime minister" and suggested that he should challenge Theresa May. At the same time, according to outtakes from the documentary The Brink, Bannon said he was helping Johnson draft key speeches.
More concerning still is Boris Johnson's connections to the now defunct data analytics firm Cambridge Analytica, which was co-founded by Steve Bannon and was shutdown after it was revealed to have hacked the private Facebook data of up to 87 million people, including more than 70 million Americans.
Boris Johnson had an undocumented meeting with the electioneering company in early 2017 and the company was also invited to a special two-day conference at the Foreign Office's Wilton Park in January that year. Johnson has said in Parliament that he cannot remember what they talked about.
Cambridge Analytica came under scrutiny as part of the Mueller Inquiry and it is reported that part of the FBI investigation has been devolved to another office. Apart from the Facebook data harvesting, Bannon's company had extensive Russian interests.
Executives from Cambridge Analytica met at least three times in 2014 and 2015 with Kremlin-linked officials from Russian oil company Lukoil and were actively working on projects funded by the Russian Government during the Facebook hacks.
Sam Patten, who worked on Cambridge Analytica micro-targeting in the US, formed a company with Konstantin Kilimnik, believed by the FBI to be the Russian intelligence contact for Paul Manafort, who preceded Bannon as Trump's campaign manager. Cambridge Analytica's CEO offered to help Julian Assange distribute the Democratic Party emails hacked by Russia's military intelligence.