BREAKING
Criminal Inquiry Looms into Maltese Government Officials Named by Assassinated Journalist Daphne Caruana Galizia
29 April 2019
Konrad Mizzi and Keith Schembri – both named by the murdered Maltese investigative journalist for their offshore 'Panama Papers' accounts – are now under fresh judicial scrutiny.
A court in Malta today upheld a request by former Opposition leader Simon Busuttil for evidence in the Panama Papers scandal to be preserved. This paves the way for a full inquiry into the hidden offshore holdings of Keith Schembri, Chief of staff to prime minister Joseph Muscat, and Konrad Mizzi, minister for tourism three years after they were first revealed by Daphne Caruana Galizia.
Caruana Galizia was the first reporter worldwide to break the Panama Papers story when she revealed in February 2016 that Mizzi and Schembri both held companies in Panama, which were placed in trusts based in New Zealand.
"Do your worst, you bastards, until the only option left to you is to take out a contract on my life. "

Daphne Caruana Galizia
One month later, on 3 April 2016, the Panama Papers story went mainstream on the ICIJ website when it released 11.5 million documents showing global law firms and banks selling financial secrecy. Caruana Galizia was murdered in a car bomb attack in October 2017.
Earlier this month Schembri and Mizzi were both named in a European Parliament report as "the only acting high-ranking government officials in any EU member state who were found to be beneficial owners of a legal entity revealed in the Panama Papers."
---
Online Harms and Targeted Harassment
Beyond their offshore funds, Schembri and Mizzi were both members of a set of alleged Facebook "hate groups" which targeted Caruana Galizia before her death.
Their adviser, Neville Gafa, an employee of Prime Minister Joseph Muscat's office, took a picture of the investigative journalist with her husband Peter shopping for plants and seeds the day before the assassination and posted the image on Facebook.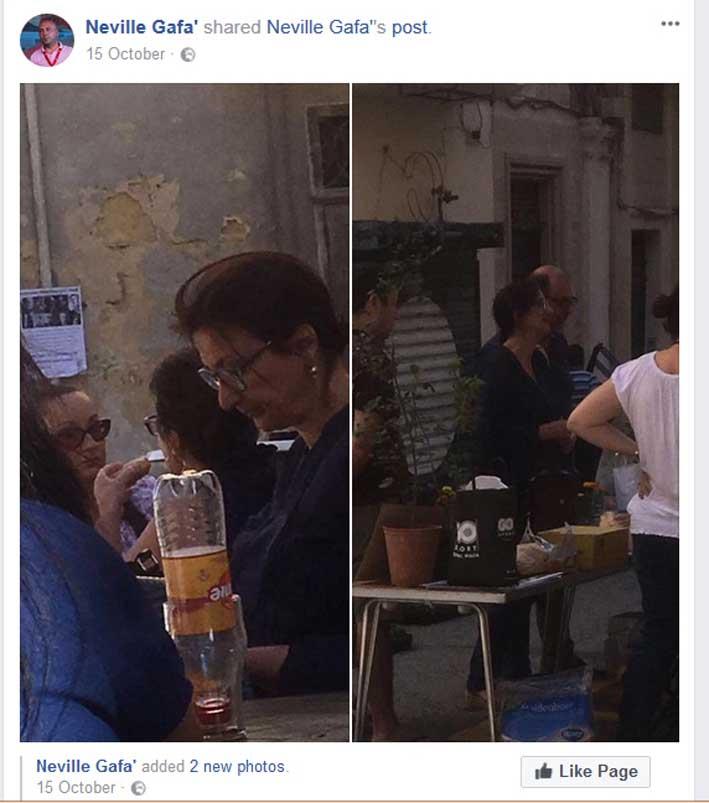 A year later, at a vigil held in honour of Caruana Galizia, Gafa openly mocked the mourners on Facebook as the "few negative".
Matthew Caruana Galizia says the family filed a criminal complaint against Neville Gafa for "stalking" his mother "on the day before her murder" but there had been "no action on the part of the police yet" and that "every question we send is ignored."
Byline Times has reached out to Neville Gafa but, to date, he has declined to comment.

There is no suggestion that Gafa was in any way involved in the murder of Caruana Galizia.
However, an investigation by The Shift News last year revealed at least eight senior Labour Party staff were members of six Facebook "hate groups" supporting the Maltese prime minister Joseph Muscat and targeting opponents like Caruana Galizia, with "violent comments, including the distribution of anti-corruption activists' personal details and calls for them to be physically attacked, sexually assaulted, and stalked."
Prime Minister Joseph Muscat and President Marie-Louise Coleiro Preca only left these Facebook groups, administered by senior Maltese officials with a membership totalling over 60,000, after the investigation in May 2018.
The United Kingdom parliament's final report into disinformation and 'fake news' also made specific mention of the Maltese Facebook groups that targeted Caruana Galizia, urging the social networking giant "to take action against untransparent administrators of groups, which are being used for political campaigns."
---
Judicial Harassment
Malta has fallen another 12 places in the current Reporters Without Borders (RSF) World Press Freedom Index ranking 77 out of 180 countries, the third lowest in Europe, with a drop of 30 places since the murder of investigative journalist Daphne Caruana Galizia in October 2017.

RSF also noted that Caruana Galizia was "subjected to all-out judicial harassment until her murder" and "the rich and powerful have turned their sights on The Shift News, an investigative website in Malta."

This is only the third time the council has appointed a Special Rapporteur: the previous times were to investigate the murders of Sergei Magnitsky and Boris Nemtsov.
Part of the RSF's explanation for describing the island as "an increasingly hostile environment for independent journalists" was "intense judicial harassment designed to gag investigative reporters by draining their financial resources". The report also cited the Maltese government's refusal to hold an independent public inquiry into her assassination and the concentration of media control by political parties as causes of the steep decline.
Since the murder of Caruana Galizia, her husband Peter has to attend court virtually every week to fight one of the dozens of ongoing libel suits against her work, most of which are thrown out due to the lack of attendance by the suitors. Maltese Prime Minister Joseph Muscat still has an ongoing libel case against Caruana Galizia.
---
'Propaganda and Attack Machines'
Three months before she was murdered in 2017, Caruana Galizia wrote about a "constant onslaught from the Labour Party's immense and truly evil propaganda-and-attack machine" in Malta and added "Do your worst, you bastards, until the only option left to you is to take out a contract on my life. Let's see where your obsession takes you."
The European Commission and Parliament, the Venice Commission, Transparency International, GRECO and the IMF have all expressed serious concerns about the state of democracy in Malta and the lack of independence of the country's institutions from the Labour government.

"What is the point in having freedom of speech if you can't use it to say that the people who govern you are crooks."

Daphne Caruana Galizia
The Council of Europe has appointed a Special Rapporteur, Pieter Omtzigt, to investigate Caruana Galizia's assassination. This is only the third time the council has appointed a Special Rapporteur: the previous times were to investigate the murders of Sergei Magnitsky and Boris Nemtsov. He is due to release his report at the end of May.

At a hearing in Strasbourg this month, Mr Omtzigt criticised Malta's justice system and an Appeal Court decision that "The Panama Papers are not evidence."

OUR JOURNALISM RELIES ON YOU
Byline Times is funded by its subscribers. Receive our monthly print edition and help to support fearless, independent journalism.
Daphne Caruana Galizia warned her readers about the break down of the rule of law in Malta. "I know that what I am writing will not make a difference, but I have to write it because somebody has to write. We have to document what's happening."

"What is the point in having freedom of speech if you can't use it to say that the people who govern you are crooks," she wrote: "There are crooks everywhere you look now. The situation is desperate."